You can run Password Depot in different modes. With the selected mode you determine which program functions are accessible and which features are shown or hidden. If you want to change the mode in Password Depot, click View > Mode.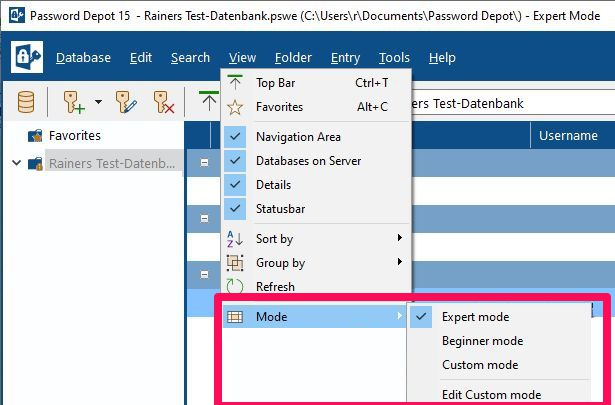 You can choose between Expert mode, Beginner mode and Custom mode. If you want to use all the functions of the program, switch to Expert mode. To use only the main functions of the program, select the Beginner mode. If, on the other hand, you want to define the existing functions yourself, set the Custom mode.
The Beginner mode
In the Beginner mode only the most important functions of the program are available. Additional options, such as synchronizing and cleaning up the databases, are not active. The menu options Folder, Entry and Tools are hidden. Due to the limited range of functions, the beginner mode is particularly suitable for users who only want to work with the basic functions of the program.
The Expert mode
In Expert mode you have access to all functions of Password Depot, including the export of databases or the encryption of external files. Due to the significantly expanded range of functions compared to the Beginner mode, the Expert mode is primarily intended for users who already know the program very well and want its full range of functions.
The Custom mode
With the Custom mode you determine yourself which of the functions contained in Password Depot you want to work with and which should be hidden. Only those functions and features can be deactivated that Password Depot does not necessarily need for regular operation. With the personal function selection, the Custom mode is therefore suitable for users who know exactly which functions they need.
With one click on Edit Custom mode you will see the Available Commands tab with all functions that can be activated or deactivated. If you remove a checkmark, this function will no longer be displayed in Custom Mode.
Click OK when you have made all the changes you want.
In the freeware version after the trial, only the beginner mode can be used. In order to switch to expert mode with additional functions and configuration options, Password Depot must be activated.