In the program options (Edit > Options or briefly with F10) you can go to the General tab. Make the following settings to start the program:
1. Choice of start mode
Under Program start > Start mode, select the state in which Password Depot should be started from the drop-down list: In the normal window, minimized, in the top bar or in the last state used.
2. Program locked or start with Windows
If you activate the option "Start in locked mode", the program-internal lock function prevents unauthorized persons from accessing Password Depot. In this way you can run the program on your computer without unauthorized persons being able to see your passwords.
Activate the option "Launch application on Windows startup" if you want the program to start automatically when Windows starts.
The option "Delay start for" can be helpful if you want to delay the program start of Password Depot by a certain number of seconds - for example if your Windows needs some time before it connects to the required network drives.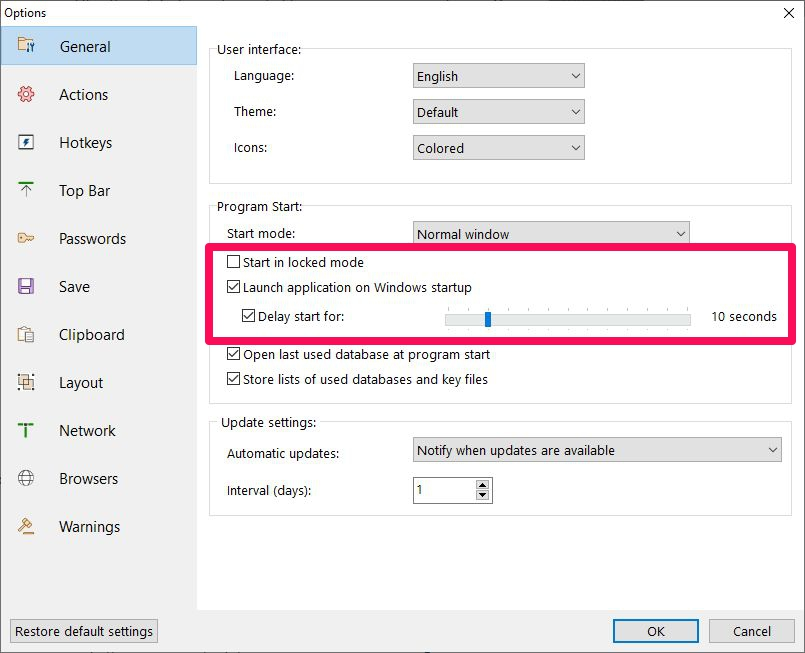 3. Load the last used database when starting the program
Activate the option "Open last used database at program start" if you want to load the same database every time you start the program that you used last time.

Tick ​​the box next to "Store list of used databases and key files" and the software will save a list of the databases and key files that you recently used. You can then see this in the Database Manager under Recent Files.