If you are unsure whether you are using similar or identical passwords for online services, you can go to Tools > Search for duplicates in Password Depot to specifically track down those services for which you are using identical user names or passwords.
Identical passwords are a security risk. Therefore, never use the same password for different accounts and generate an individual, secure password for each account. Whereas the username can very often be identical, for example because this is your e-mail address, and duplicate entries can also occur in the URL if this is not the case for your passwords.


Search by username, password or URL
Here you can search up to three main fields in your database for duplicates: Username, Password and URL. In this way you can quickly and easily see whether your database contains entries for which an identical password is used.
You also have the option of combining the analysis, for example by searching the user name and password. The operators AND and OR are available. Then click Find Duplicates to start the process.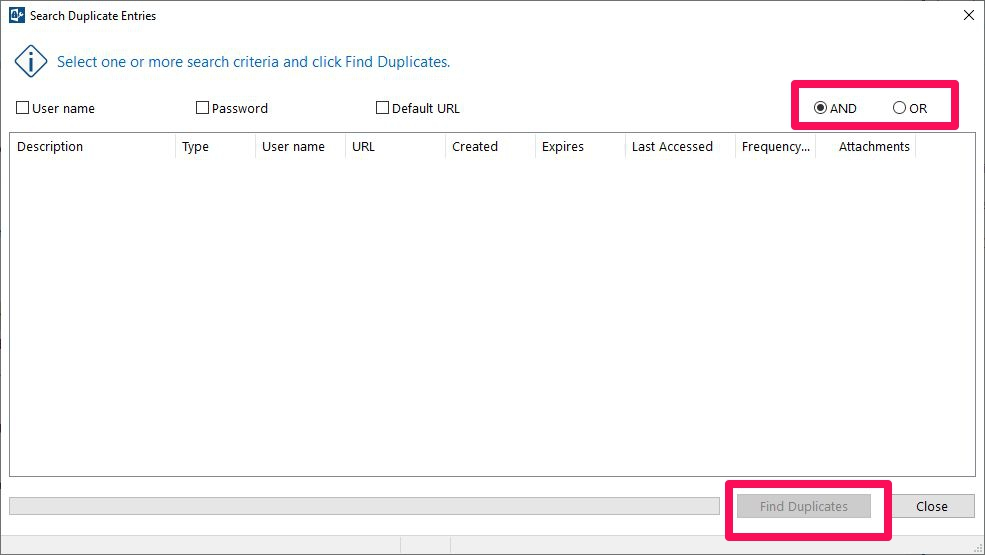 Edit or delete duplicates
The results of the search for duplicates are displayed grouped according to the previously selected fields and the operator. The following functions are available to you by right-clicking on one of the entries in the results list on the right:
Edit: Opens the entry for editing.
Delete: Deletes the entry from the database.
Open URL: Opens the associated URL in the browser.
Select all: Marks all entries in the result list.