Make sure that your Password Depot databases are always up to date since not used and expired entries may unnecessarily "bloat" your databases.
Under Tools > Clean-up, you can search entries that have not been used for a long time or have already expired. This way, you can always keep your entries up to date and make sure that your databases do not get overloaded.
During clean-up, you can choose between the following filters:
Show entries expired before: Shows all entries that have expired since a certain date.
With attachments bigger than (KB): Shows all entries that have an attachment of a particular size. This way, you can quickly find out about entries with large attachments that may delay the loading of your database.
Entries not used after: Shows all entries that have not been used since a certain date.
Never used entries: Shows all entries that have never been used after creating them initially.
With history: Shows all entries where the change history has been activated.
With custom icon: Shows all entries containing custom icons that have been assigned by the user to individual entries.
After selecting and applying the desired filter criteria, you can see all entries that match your criteria. Furthermore, you can also see additional information related to your entries, for example "Expires on" etc.
Example
The following screenshot shows a results list of all entries that have not been used since 16 December 2021: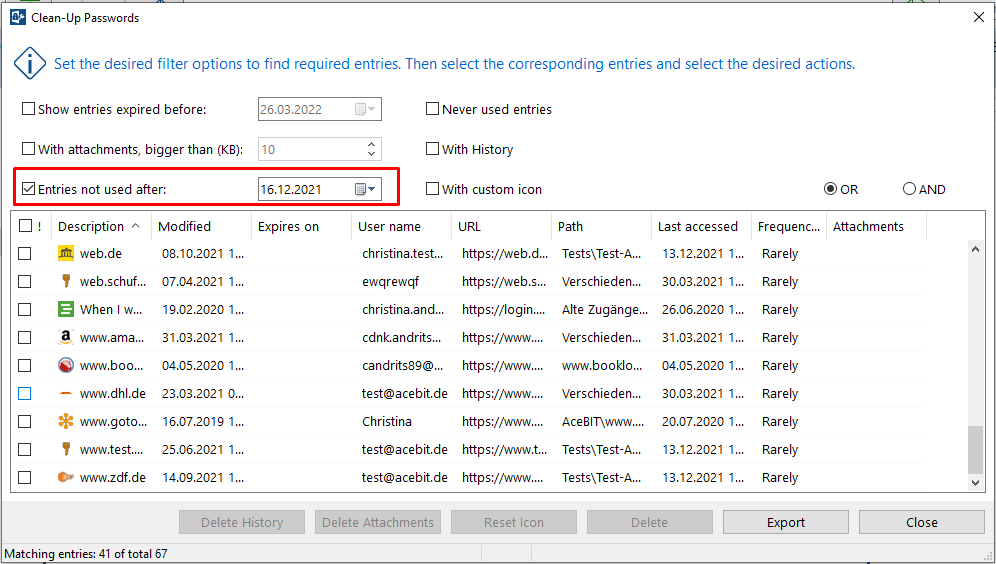 Edit and delete entries
You can highlight desired entries and right-click them to edit or delete them afterwards. In addition to that, further actions are available here:
Delete Attachments: Deletes the attachments of the selected entries.
Delete History: Clears the history of selected entries if available.
Reset Icon: Resets the custom icon of a selected entry to the default one.
Open URL: Opens the URL that has been assigned to a specific entry.
Note: Alternatively, you can also perform these actions by clicking the buttons of the same name displayed at the bottom of the "Clean-Up Passwords" dialog window.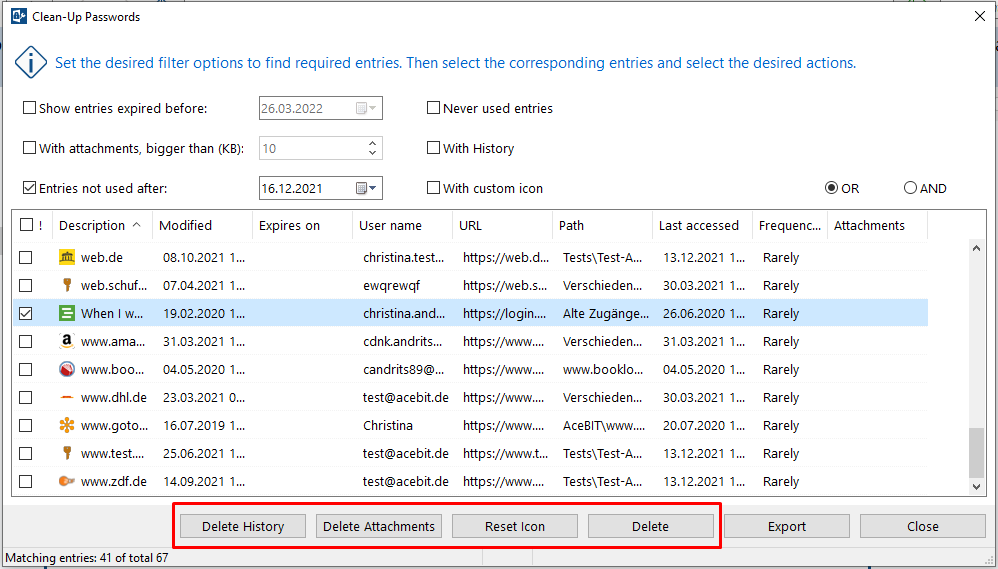 Click Close to finish.
Click the Export button to export the results list to a CSV file and save it outside Password Depot to your local system, for example.
Note: Expired entries are highlighted with a "prohibition sign" in the main view. Go to Edit > Options > Passwords to set a default expiration period for your entries and define whether Password Depot should warn you about expired entries.